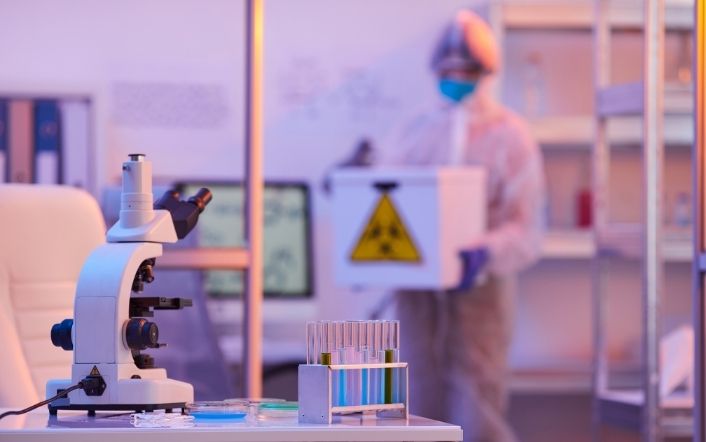 Six ways Aport can remove the stress from your laboratory relocation
21/04/2021 / Project management / posted by Tom Wickstead
Moving a laboratory to a new location can be a highly stressful experience.
Whether you are transferring a whole team to the other side of the world or simply moving vital equipment to a different part of the same site, there are so many things to consider. Many people worry that the move may disrupt their research or compromise their samples or instrumentation.
Using a specialist laboratory relocation firm like Aport is vital to ensure your laboratory move is a stress-free experience for everyone involved.
As April is stress awareness month, we are taking a look at how the team at Aport can make your life easier during a relocation:
A bespoke solution
When you work with Aport, we take time to find out all the details of your relocation project so we can tailor our services to meet your exact requirements. We will carry out a comprehensive consultation to discuss all the elements involved in the move and the proposed timescale before producing a detailed plan and unique solution.
One point of contact
Rather than working with a faceless team or having to ring an anonymous call centre with queries, you will be given a named point of contact you can get in touch with to discuss all aspects of your laboratory relocation. Our experienced project managers work alongside our clients to deliver world-class turnkey solutions. As well as managing the move itself, this can involve managing third parties and ensuring everything adheres to local and international regulations. If required, your project manager can work on site at your premises throughout the relocation process, meaning they are on hand to tackle any challenges as soon as they arise and can answer all queries quickly.
Expert knowledge
Our extensive experience in laboratory relocations means we are used to moving sensitive equipment, dangerous goods and chemicals and items which must be kept in strict temperature-controlled conditions. We will liaise with your team from an early stage to ensure we have an in-depth understanding of everything involved in the move, including the necessary conditions for transit and any decommissioning and recommissioning processes. We will also consider any circumstances which could potentially cause problems or delays and put full contingency measures in place to make sure the relocation process runs smoothly from start to finish. Unlike many of our competitors in the laboratory relocations industry, all our services meet GxP requirements, including Good Laboratory Practice (GLP), Good Manufacturing Practice (GMP) and Good Distribution Practice (GDP).
Site surveys
We can carry out site surveys at your existing site and new location to work out the best access routes and any potential challenges which might arise during the relocation. This allows us to troubleshoot any problems before they occur and avoid any unexpected surprises.
Pre and post-move functionality testing
At Aport, we offer functionality testing on your laboratory instruments both before and after the move. This will ensure they are working as they should and minimise the disruption caused to your research and day-to-day operations. Our specialist testing team will check your instruments and equipment in their original position before checking them again at their destination. This will make sure that all your instrumentation continues to adhere to regulations.
Taking care of the paperwork
We can provide you with the necessary paperwork connected with your laboratory relocation so you have everything you need for auditing. This includes a log of all laboratory instrumentation involved in the move. Our team is also able to organise all the documentation required for an international move so you have one less thing to worry about.
For more advice on planning a successful laboratory move, check out our moving checklist. To discuss your project with us, call +44 (0)1257 482398 or email sales@aportglobal.com