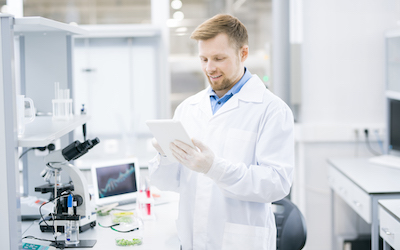 Planning your laboratory relocation: A moving checklist
07/08/2020 / General help and advice / posted by Tom Wickstead
When planning your laboratory relocation there are some key stages in the timeline to work towards. There is a lot to plan, so breaking it down into a checklist will ensure smooth running and allow you to know what discussions to have with your relocation specialist through your move.
Prior to your move

1) Compile an asset list
Work through all your equipment that you plan to take with you and detail everything including any chemicals or dangerous goods so that you have an extensive list that is easy to tick off. This will form the basis of your relocation plan.

We will need as much of the following information as you are able to provide:

Instruments
Asset – Manufacturer and Model
Quantity
Weight
Dimensions
Whether or not you have any of the original packaging

Chemicals
Name
Quantity (just the quantity of the vessel/container
UN number if applicable
We will require the MSDS's from at a later stage

Samples
Name: RNA etc – internal name
Temperature range – the sample must be kept at
Quantity
2) Spring clean

Look at what consumables you have and decide what you need to take with you. What is going to be sold or discarded? This is the perfect opportunity to filter through what you really do not need so that you arrive at your new facility to a fresh and organised start.
If your consumables are already boxed up (many consumables are sent this way) then there is no need to box these again.
Think about consumables that might need to be kept at a certain temperature range (15-25) degree c and highlight these to us when you book your move.
3) Instruct your relocation specialist to conduct a site survey

It is important that you request a site survey at both your existing site and your new location. This will allow for checks to access routes so that any complications can be preempted. It will allow your chosen provider to make sure appropriate equipment can be used for the safe transportation of any large or valuable pieces.
If you are able to supply an asset list prior to the site visit this will help the surveyor understand your instrumentation and requirements in advance. Its normal for companies to ask the surveyor or company to sign a non-disclosure agreement prior to receiving the asset list.
4) Seek advice on decommissioning processes

Speak to your relocation specialist and/or the OEM to arrange the best action to take to decommission and recommission your equipment. It is important to get the timing right to minimise potential downtime.
Think about any service contracts you have with manufacturers and see if you can tie in any annual maintenance in with the de-comm / re-comm. Aport has an excellent relationship with all major manufacturers.
5) Arrange insurance

A key piece of advice is always insure your relocation. No matter how professional or careful the relocation specialist is there is always risk, especially when dealing with valuable instruments or vital research.
In order to provide an insurance costing it is important to ask your finance department for a valuation of goods. This will allow us to provide an accurate cost.
Two weeks prior

1) Arrange packaging materials to be sent

Discuss with your relocation specialist your requirements and have all packing materials delivered a couple of weeks in advance to give you time to pack properly. This also includes any OEM crates that can be bespoke made to fit your equipment, if required, and any temperature controlled packing that is needed for samples/specimens.
2) Begin labelling equipment

We suggest marking your equipment so that your relocation specialist can easily pick up the correct items to be moved without needing to check, thereby speeding up the process. It is also useful to make note of where it is to go at your end destination. We can provide you with all the necessary labels, in variety of colours dependent on whether you are phasing your relocation.

3) Dangerous goods

A dangerous goods note is required before any items under that category can be relocated, so ensure you have discussed this in advance with your relocation specialist and that your dangerous goods note is in place in plenty time before the date of relocation.

4) Get ready
If you have decided to pre-pack the assets then ensure you have everything ready prior to your relocation specialist's arrival.

5) Book engineers

Undertake detailed pre-planning to ensure engineers are booked and a clear sequence of effects is understood by all parties. A programme of works document is important if the relocation and de-comm / re-comm is particularly complicated.
Day of the move

1) Decommissioning of equipment

After arranging in advance with your relocation specialist and/or OEM they will arrange for an engineer to be onsite the day of the relocation.
2) Equipment to be moved
s soon as the instruments have been de-commissioned it is important for the instruments to be relocated. Additional costs can be incurred by the manufacturers if there are delays which require extra time for the engineer.
3) Other items
Consumables, chemicals and general peripheral items are relocated. Ensure you have the correct storage solution for the chemicals at the new facility.
4) Temperature controlled samples/specimens
Any items that are temperature controlled should always be last to be packed onto the vehicle so that they can be first off and back into the correct environment as soon as possible.
Post move

1) Recommissioning of equipment
In advance, plan with your relocation specialist and/or OEM for an engineer to be onsite for the date your equipment will be delivered to your new facility.

2) Tour the new laboratory
Before signing off the relocation make sure you have looked around and that you are happy with everything before your relocation specialist leaves the site.

3) Unpack crates
Begin unpacking all the peripheral items and consumables and remember to hand back any plastic crates that were delivered to you – these are usually collected a few weeks after your relocation has been completed.

4) Brief the team
Ensure all your laboratory staff understand all the new procedures within the new facility.