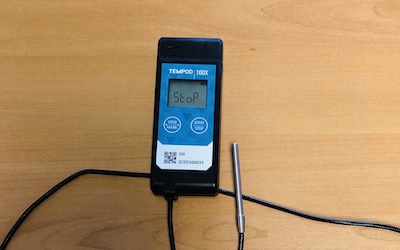 Temperature probes fulfil GMP protocols
24/01/2020 / Samples and cold chain materials
Aport has invested in state-of-the art temperature probes to provide even more robust chain of custody records for temperate goods in transit.
The Tempods are fully programmable with bespoke settings, allowing our clients to monitor and record information specific to their samples or materials.
They can also sound an alarm to alert crew if temperature falls or rises outside set parameters, allowing them to rectify the issue immediately.
Tempods can record the temperature in TC10s and laminars for the entire transit period and produce a report outlining the parameters during that time.
They operate for 12 months on a single battery and carry calibration certificates to verify their accuracy.
Commercial sales manager, Matt Cocken said: "The range of features and technical capabilities of these new probes assures both our crews and our clients that temperature-vulnerable products can be transported not only safely, but with a full evidence chain evidencing that the goods have been moved in accordance with instructions."