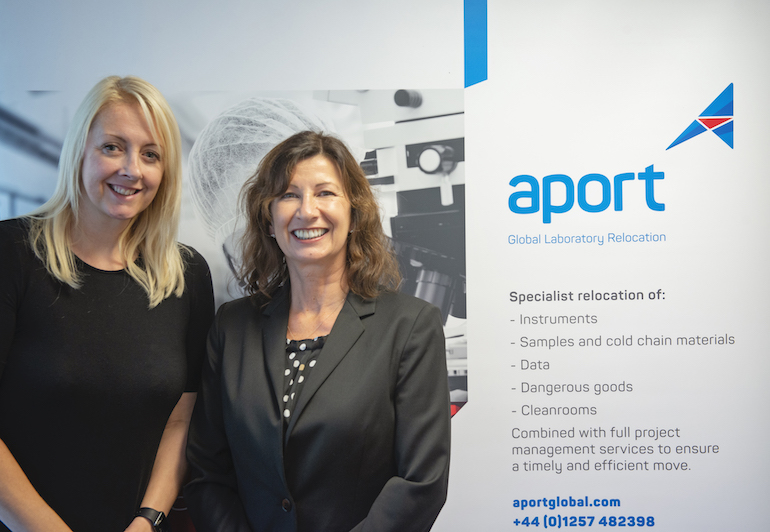 Lab relocation specialist targets growth
14/11/2019 / Integrated relocation
Laboratory relocation specialist, Aport, plans to grow its worldwide market share with the appointment of new senior staff and expansion of its service offering.
Aport welcomes business operations and development manager Jane Wood and commercial manager Jennifer Baines to the team, both based at its UK head office.
Jane brings expertise in management and business development with a specialism in insurance services.  She will oversee insurance underwriting in respect of all Aport clients.
Jennifer takes on a major customer-facing role, supporting commercial director Tom Wickstead in project management, client liaison and move planning.
The appointments come alongside Aport's launch of its new instrument delivery service.  Working on behalf of OEMs, Aport provides full warehousing and delivery of new instruments, overcoming the problematic issue of traditional logistics firms delivering to loading bay only.  Aport ensures end users are not left with the struggle of manoeuvring valuable and often heavy and fragile instruments from loading bay to bench top, which can put both the machines and staff at risk.
Aport's announcement comes directly after its first time exhibiting at the UK's Lab Innovations exhibition, where it was awarded for having the highest number of visitor check ins at its stand. 
Commercial director Tom Wickstead explained the thought behind Aport's expansion plans.
"In the years since Aport was first established we have made a firm name for ourselves as a global leader in laboratory logistics.  Our team expansion has given us the resource we needed to reflect on our success and plan our next phase."
He continued: "We've taken a holistic approach to our company development and have, as a business, established our core values.  Our vision is for Aport to be known worldwide as a passionate, pioneering, authentic and dedicated organisation.
"At the same time we are expanding our digital presence to reach a wider potential customer base.  This has included an improved worldwide presence and a new online knowledge centre where we'll share advice in the form of videos, articles, podcasts and infographics."
Aport provides integrated laboratory moves including specialist relocation of instrumentation, data, samples, dangerous goods and cleanrooms. 
Headquartered in the UK, Aport works with customers worldwide including partnerships with leading global OEMS.