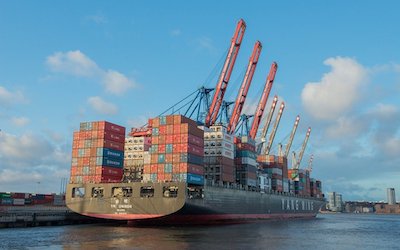 What is General Average?
18/11/2019 / Insurance / posted by Jane Wood
Despite being an ancient principle dating back to around 530 AD, the maritime principle of General Average is more relevant now than ever to the transportation of cargo by sea.
General Average is unique to sea freight, and is declared by the Master of a vessel when it is necessary to make an 'extraordinary sacrifice' for the common safety of the crew and vessel.
The most usual examples of this are:
Jettison of some of the cargo to ensure the safety of the whole vessel
Fire on board
Stranding or grounding of vessel due to machinery breakdown
Shift of containers due to a heavy storm or other inclement weather-related incidents which may threaten a ship's stability
Situations where the vessel needs assistance from tugs or other vessels
Calling at a port of refuge
The situation described above will have incurred costs and/or losses, and the principle is intended to be fair to all stakeholders involved in the voyage, including the owners of the cargo, by sharing these costs or losses between all parties.
Consequently as an importer or exporter you can unwittingly incur a legal financial liability to pay a significant sum, and of course the shipping line has possession of your cargo and is legally entitled to  withhold it under their right of lien until General Average bonds or guarantees have been made.
To secure release of your cargo you must submit a cash deposit or a bank guarantee. An average adjuster will be appointed to deal with this, and the calculation of your share of the claim is basically proportionate to value of your cargo.
This percentage will vary depending upon the circumstances but as an example, following the fire on the 'Maersk Honam' in 2018, the average adjuster fixed the salvage security at 42.5% of the cargo value, as well as requiring a further 11.5% as a general average deposit.
This means a cargo owner with goods worth £500,000 would have a combined general average and salvage security bond bill of £270,000 to have the cargo released.
This may seem a daunting prospect, but having the security of a Marine Cargo Policy will give you peace of mind, as your Insurers will deal with the necessary guarantee and will guide you through this complex process.
Marine insurance can be arranged on an annual basis or ad hoc for an individual movement, and in either case the policy will provide cover against the risk of General Average.
The increase in size of container ships (the largest now carrying over 21000 containers) and the incidence of extreme weather conditions means that the number of cases where General Average is declared seems to be rising. For protection against this largely unknown but very real risk, take the time to ensure that you have adequate insurance in place.