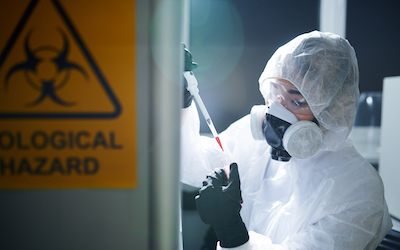 Minimising cross-contamination risks
19/02/2020 / General help and advice / posted by Matt Cocken
Modern laboratories are highly technical places to be, with personnel using some of the most sophisticated and valuable instruments available to carry out science.
Labs can be crowded places, often with high traffic areas and various personnel sharing assets. As part of standard laboratory protocols, strict rules are in place to prevent external contamination entering the lab, or vice versa.  The risks of cross contamination extend to vehicles when laboratories are relocated.
Here I have outlined procedures that need to be considered from a relocation perspective to reduce or eliminate the risks of cross-contaminaton:
Lab Design
Traffic – how many personnel will be working in the lab/s on the move day and can this number be reduced?
Safety threshold lines – When moving from a clean area to external locations crew members will need to be deployed in the clean side with the appropriate protective clothing, to move items to the safety threshold where external crew will load onto vehicle.
Access – Can the crew access the areas they need to get to? Have they been given the relevant access clearance in advance of the move day?
Lab Cleaning Procedures
De-com/Re-com – Have all the instruments that are included in the move been de-commissioned, cleaned and certified clean?
Have all work surfaces been cleaned prior to lab packing, when instruments are moved there will normally be a build-up of dust and rubbish underneath, this will need to be cleaned and disinfected immediately.
Vehicle Design
Commercial vehicles used in lab relocations need to be designed in a way that minimises contamination risks as well as aiding in good cleaning.
Vehicle need to be well ventilated using low profile and high air flow construction.
ADR regulations state that vehicles carrying dangerous goods should be fitted out with specific additional safety features and kit.
Drivers and crew should be trained in the safe transportation of any dangerous goods.
Vehicles need to be well maintained. Carrying time and temperature sensitive loads can be affected if the vehicle breaks down and alternative measures are not in place.
Trackers are useful as they can monitor the progress of the vehicle and reassure clients that the assets are on schedule and safe.
Vehicle Cleaning Procedures
Vehicles need to be cleaned thoroughly after every project.
Use of powerful but environmentally safe chemicals to disinfect the load area and the crew cab areas.
Ultraviolet lighting to be used in the loading area of the vehicle, this will reduce any bacterial activity between projects.
Top 7 preventative measures:
Discard your gloves before leaving the lab: Use gloves to protect your skin from chemicals or infectious materials, but once used they are considered contaminated and should be disposed of before leaving the lab. Never touch door handles or lift buttons while wearing gloves.
Never reuse disposable gloves or lab coats: This practice can increase the likelihood of contamination. Good practice dictates that you change your gloves and lab coat between tasks.
Dispose of contaminated gloves and lab coats: Always dispose of these items in the lab's Stericycle box or biological waste container – never use a normal bin or wastepaper basket.
Wash your hands: As soon as you have removed and disposed of all your lab wear, wash your hands thoroughly using a sanitizer.
Identify clean & dirty areas: Look for biohazard labels to identify these areas, only pass through these zones if you are accompanied, authorised or trained to do so.
Be mindful of others: Have you witnessed someone breaching the contamination rules, if so bring it to their attention, be aware that others may use the space and air you are in after you.
Use of secondary containers and lids: Always use approved containers to transport dangerous goods, if you are using boxes seal the box, if you are using crates make sure the lid is clipped/screwed down before it is loaded onto the vehicle. Always carry a spare pair of gloves in your pocket just in case you need them.
The information provided here is an overview and designed to help you remember basic but important measures.  Cross contamination in transport is a risk and needs to be identified and assessed on every move project.  The pointers highlighted are just a few of the areas that we, here at Aport, have researched and implemented with our clients .