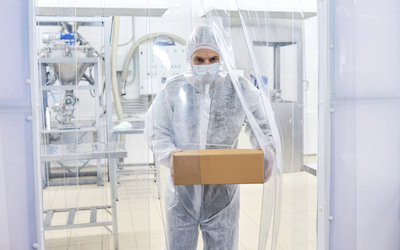 9 safety rules every laboratory should follow
03/03/2020 / General help and advice / posted by Tim Aspey
Does everyone using your laboratory know the rules when it comes to health and safety?
Having a clear list of dos and don'ts for everyone to follow can make your laboratory a safer place to be and reduce the risk of accidents, injuries and errors.
If you have just moved your laboratory to a new location, drawing up health and safety guidelines will help you maintain standards and minimise disruption. And if you are the manager of a university laboratory, which is used by lots of different people who may be new to the facility, making sure there are consistent rules in place is extremely important.
At Aport, we're no strangers to rules, regulations and procedures. Laboratory relocations are a complex business and our staff are experts at devising strict protocols to minimise potential problems and ensure the move goes as smoothly as possible.
Here are our recommendations for nine health and safety measures every laboratory should put in place today:
Ban food and drink
Banning people from bringing food and drink into the laboratory will reduce the risk of spillages and potential contamination. If staff and students have to leave the laboratory to have a coffee or eat lunch, it ensures they take proper breaks which will help them stay focused and efficient while in the lab. Removing food and drink also prevents people from trying to carry out tasks while eating and drinking, which could lead to mistakes.
Partner up if possible
Working in a team or with a partner should be encouraged as much as possible. Two brains are always better than one and collaborating with someone else lowers the chance of errors being made. Having a lab partner is also a good idea from a safety perspective as it means there is someone there to respond quickly and get help if you are injured in an accident.
Label potential threats
Take time to establish any potential hazards in your laboratory and make sure there are plenty of highly visible warning signs in place before you start using the space. This is particularly important if you have just completed a laboratory relocation and your team is working in a new environment. Important things to think about are potential trip hazards and areas where there is high-decibel noise. All chemicals and solutions must be prominently labelled and make sure all electrical circuit breakers are in place and clearly marked.
Budget money for safety
When you are drawing up a budget for your laboratory, make sure you set aside funding for safety equipment including gloves, goggles, fire extinguishers, safety glasses, lab coats, eye wash stations, ear plugs and splash guards. Draw up an inventory of what equipment you already have and ensure items are replaced when necessary. It's also a good idea to allow money to pay for regular safety training.
Take precautions with flammable materials
Identify any solvents, chemicals and aerosols which are flammable and pose a fire risk and make sure they are stored securely inside fireproof cabinets within the laboratory. Make sure there are warning signs in place to remind laboratory users to put items back into the cabinets after use.
Write a safety manual
Taking time to write a safety manual for your laboratory is a good investment of your time and could play an important role in preventing potential problems. Draw up a clear policy which outlines best practice and sets out requirements. This is then a handy point of reference for both new and existing members of the team. Ask everyone to read the manual and sign a statement saying that they have read the information and agree to abide by the rules which have been set out. This allows you to take action if you find a member of staff has been consistently breaking or ignoring the safety regulations detailed in the manual.
Carry out random checks
Don't just put a set of rules in place, check that they are being followed. Write a safety checklist and choose random times to go through each point in turn and see whether the regulations are being adhered to. Avoid carrying out these inspections on particular days or giving staff lots of notice as this will prevent you gaining an accurate picture of what is happening on an everyday basis. If those using the laboratory know that the safety procedures could be checked at any time, they will be more likely to stick to them.
Prepare for disaster
No one likes to think about worst case scenarios but planning what will happen in different emergency situations will make you better able to cope if something unexpected does happen. Carry out safety drills so everyone knows exactly what to do if there is a potentially dangerous situation like a chemical spill, gas leak, fire or explosion. Come up with an evacuation plan and identify emergency exits, meeting points and staff who will take responsibility for checking everyone has safely left the area. Include details of your emergency procedures in your safety manual.
Don't be afraid to delegate
As laboratory manager, it can be tempting to take responsibility for everything yourself. But don't be afraid to delegate some of the tasks relating to health and safety to other members of your team. This could mean asking a colleague to carry out random checks or giving someone else the job of keeping the inventory of all the chemicals in the laboratory.