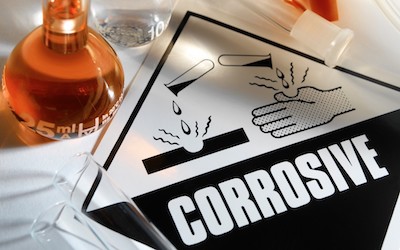 What are the latest changes to ADR regulations?
30/01/2020 / Dangerous goods / posted by Matt Cocken
Transporting dangerous goods by road is a complex business which must be treated with care.
Anyone involved in moving chemicals, corrosive substances or anything which could be classed as hazardous in Europe must comply with ADR – a United Nations treaty dating back to 1957 which governs the transnational transportation of dangerous goods by road. But while the concept of ADR is more than 60 years old, recent updates have been made to the regulations in a bid to improve safety on the roads.
As a global specialist in laboratory relocations, Aport must always stay one step ahead when it comes to changes in legislation and regulations. Here, Matt Cocken, who is in charge of health and safety at Aport, explains the impact of the most recent updates and how they could affect how the company handles your laboratory relocation project.
Class 8 corrosive substances
Under the new 2019 ADR regulations, the concentration and mixture of Class 8 corrosive substances must now be measured. Class 8 substances are chemicals which are capable of causing significant damage if they came into contact with skin, living tissue or metal. In the past, the classification of Class 8 substances was based on the rate at which they would produce full thickness damage to skin which was previously intact.
Now the classification of substances will use a new calculation method which will look at the concentration of corrosive ingredients in the mixture being transported. There have also been changes to the wording used when classifying Class 8 substances and the potential injury they could cause. From now, "full thickness destruction of intact skin" will now be described as "irreversible damage of intact skin".
Clearer labelling
Substances which must be stabilised at a particular temperature during transportation must now include the words "temperature controlled" as part of their official shipping name. There has also been changes to the way in which dry ice – the solid form of carbon dioxide – is transported. Dry ice must now be clearly labelled with a new warning sticker, which must include whether it is being used as a coolant or conditioner.
The 2019 regulations also include 15 new UN numbers and alterations to 51 existing entries. It is essential that if you are planning a move which will involve the transportation of hazardous materials, you use a company like Aport which has a comprehensive understanding of current ADR regulations to ensure your relocation complies with the law.
It is also important to remember that ADR regulations do not just apply when the dangerous goods are directly being transported. Any packaging which has been used to carry dangerous goods must be transported according to ADR regulations even if it is empty and no longer contains the substance. This is a protective measure to prevent any potentially harmful cross-contamination.
Aport provides full project management for your laboratory relocation and will ensure it meets all regulatory standards, including ADR.
To discuss your needs, contact our team today.