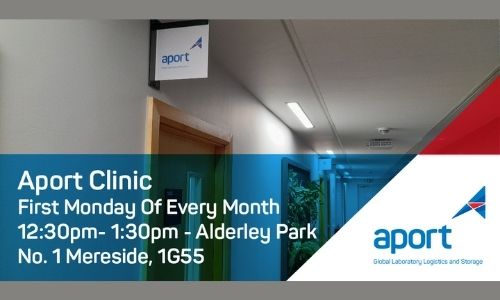 Introducing our new FREE Aport Clinic at Alderley Park
07/02/2022 / Project management
We're proud to announce the launch of our monthly lab clinics – Aport Clinics – a drop-in session offering laboratory companies at Alderley Park free advice and guidance on their lab relocation challenges.
The clinic will be an open-door session on the first Monday of every month, 12:30pm – 1:30pm in the Aport office, Alderley Park, No 1 Mereside, Room 1G55. The clinic will be a chance to drop by and ask Aport's new projects manager Andy Powers any questions you have about lab logistics and relocations and everyone from Alderley Park, including visitors, are welcome.
Andy has over 33 years' experience in the industry and has spent 16 years leading international teams developing products, solutions, and services, including compliance orientated services for laboratories. He has also implemented new processes internally and for customers, applying his six-sigma green belt training throughout.
Whether you're moving a single piece of equipment to the next room, or your multi-complex lab across the world, we have done it before. Andy and our Aport team would love to share our expertise with you to ensure all your relocations go to plan whilst adhering to industry regulations at all times.
Aport is one of the world's leading laboratory relocations providers. Uniquely, we work to GxP standards and can provide the integrated relocation of laboratory instrumentation, data, samples, temperature-controlled materials, dangerous goods and cleanrooms. We are proud to work with some of the leading names in the global life science industry, who depend on the firm's strict regulatory adherence, professionalism and attention to detail.
As a growing company, the Aport Clinic is a chance to demonstrate our commitment to the industry by sharing advice, knowledge and experiences.
Not at Alderley Park? We are always willing to speak to businesses in the industry. Please email the team to express your interest, and we will be in touch to arrange a call.
For more information, please email Andy at powers@aportglobal.com, or call +44 (0)7706 342250.