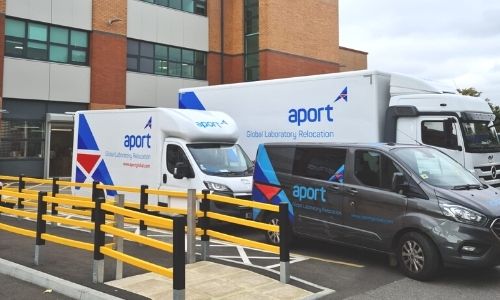 Job Opportunity - Class 2 Driver
14/02/2022 / Instrument relocation
This job requires a confident person with class 2 driving experience, with the ability to cope with regular manual handling, who can deal with customers face to face.
Who is Aport?
Aport is a world-first in providing integrated laboratory relocation services that deliver fully compliant turnkey solutions across the globe. Aport developed from a highly specialist relocations business in the UK, Andrew Porter Ltd. Over the years, the firm's specialism in high-level laboratory relocation projects had grown to the point that its customer base included large global pharmaceutical businesses, which in turn demanded a global service and Aport was born.
About the role and skillset required:
You will need to know how to wrap & pack equipment with great care and attention to detail, securely strap down loads within the required laws and customer requirements
Early starts and nights out will be required as part of this role, along with travel overseas over multiple days on occasion. Punctuality and good timekeeping are crucial.
Must have a British passport
Knowledge of the UK roads and current tachograph legislation is a must, with experience driving overseas.
Experience in moving laboratory equipment preferable. Ideally, we require you to have no more than 3 points on your license.
Company uniform provided as well as full PPE
To Apply:
Come and join a friendly team in a growing company in an exciting and extremely varied role.
Job Type: Full-time, Permanent
Salary: Salary depending on experience
To Apply: Please email your CV and covering letter to Victoria Clinton clintonv@andrewporterltd.co.uk
Closing Date: Saturday 30th April 2022
If you know someone who ticks all the boxes above, please refer them to us and if successful and they're still with the company after three months, in return, you will receive £250.00 as a thank you.
Aport is an Equal Opportunity Employer. Aport does not discriminate on the basis of race, religion, colour, sex, gender identity, sexual orientation, age, non-disqualifying physical or mental disability, national origin, veteran status or any other basis covered by appropriate law. All employment is decided on the basis of qualifications, merit, and business need.