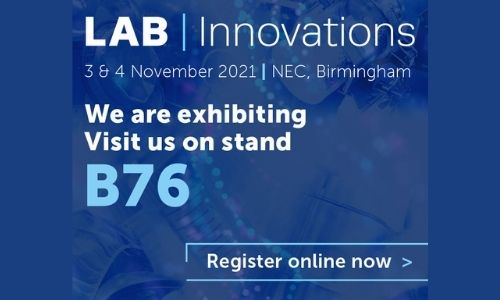 Lab Innovations 2021
04/10/2021 / Integrated relocation
Aport is pleased to announce that we're exhibiting at Lab Innovations 2021, the UK's only trade exhibition for the entire laboratory industry, taking place at the NEC, 3rd-4th November 2021.
On our stand B76, we'll be showcasing how we can solve your laboratory relocation and removal challenges.
We're also excited to announce that we have pledged to plant a tree for every visitor to our stand. We'll also be giving out an environmentally conscious souvenir to mark the occasion and promote our journey to become a more sustainable and efficient company. 
Whether your move is within the UK, or across multiple countries, our expert team will be on hand to answer queries about what can often be a complex and multi-faceted process – from when to start planning, to how to risk-assess, ensure compliance, and everything in between. 
Counting some of the world's largest pharmaceutical, life science and OEM businesses as our loyal clients throughout the globe, we've established a reputation as a leading name for integrated professional laboratory relocation services. Using Aport gives customers peace of mind that their moves are carried out to the highest standards whilst complying with all regulations and legislation such as GxP covering GLP: GCP, GMP and GDP practices wherever you are in the world.  
Jane our Business Operations and Development Manager, said, "We're very much looking forward to exhibiting once again at Lab Innovations.
Laboratory relocation is something that impacts any size and type of lab, and the reality can often be very different to how people imagine.  
It's always fantastic to meet potential customers and network with the industry. We like to use it as an opportunity to educate people about what we do, and why it is essential to use professionals for laboratory relocations; to protect their research, samples, assets, equipment, or whatever they're moving, and, most importantly, protect their staff and company's reputation. 
We're also excited to see how many trees we can plant on behalf of all our visitors."
Tom our Commercial Director will also be speaking at the show in the theatre, where he will be sharing his seven steps to help ensure that any lab move you undertake goes smoothly and safely. 
The talk will focus on Tom's breadth of knowledge built up over years of helping clients move their labs - anything from a single piece of instrumentation to an integrated, international move and aims to inspire, educate, and provide insight into the laboratory industry, and in particular, the logistics side of things – something which isn't often considered until the service is needed.
Tom said: "There are numerous questions clients often ask me when they're preparing for a move so I thought it would be useful to share this knowledge and help reassure people that a lab relocation can be a smooth and straightforward process if organised effectively."
We can't wait to hear him talk and will post a recording on our website after the event.
Visit Aport global laboratory relocations on stand B76 Lab Innovations, NEC Birmingham, from 3rd to 4th November 2021 and have a tree planted on your behalf.
To book a meeting with the team or find out more about their services, please contact us at sales@aportglobal.com.
Click here to register for the exhibition. 
We look forward to meeting your there!