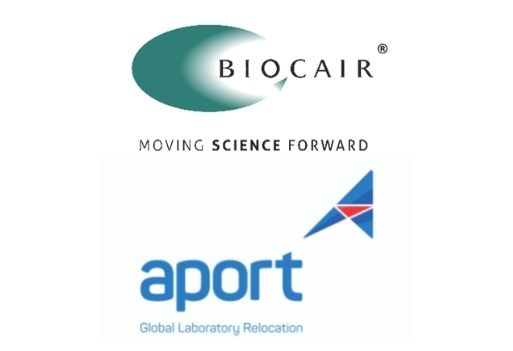 Aport Joins Forces with Biocair
25/05/2021 / Project management
Aport is excited to announce that we've teamed up with Biocair, combining our expertise to offer both our customers a seamless approach to moving their laboratories, samples and equipment around the world.
Biocair is an expert in life sciences logistics, providing pharmaceutical professionals, researchers and scientists with industry-leading supply chain solutions.
This partnership will allow our customers to benefit from both companies' resources and specialities whilst having just one point of contact project managing the relocation from start to finish.
Our commercial director Tom Wickstead commented: "We've worked with Biocair on numerous projects and having witnessed their expertise and specialist services first-hand, a partnership seemed the next logical step to bring greater value and flexibility to our customers. It means everything they need is sorted with one contact point and one invoice."
Chief commercial officer of Biocair, Bruce Kennedy, explained: "Many of our customers move samples at the same time as other aspects of their lab, so we often get asked if we can provide additional services. We're delighted to partner with Aport to give our customers complete peace of mind that as well as their samples being taken care of, their lab equipment, instruments, data, cleanrooms or dangerous goods are all in the hands of experts."
We hope that together, we will set even higher standards for the industry. We look forward to meeting Biocair's customers and to seeing what the future holds.