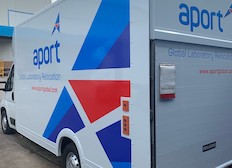 Aport expands fleet with brand new vehicle
04/10/2019 / Instrument relocation
Aport has expanded its fleet of specialist relocation vehicles with the addition of a Luton Low Loader.
Featuring compact dimensions but with a large tail lift, the vehicle is perfect for single instrument moves, new instrument deliveries or time critical shipments and is ideal for sites where access is limited.
The vehicle is compliant with the 2019 ADR regulations, meaning we are able to transport dangerous goods without any limitations.
Commercial director Tom Wickstead commented: "The addition of this new vehicle will benefit all our customers, but in particular it will mean we can service our clients on mainland Europe with faster lead times."