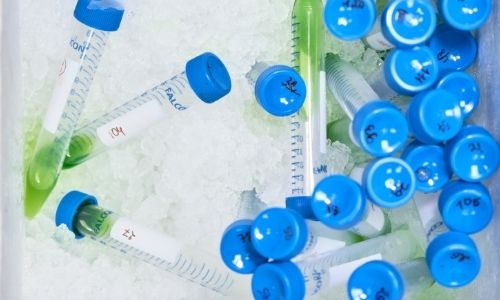 How to move samples safely
23/02/2022 / Dangerous goods / posted by Catherine Byrom
If your laboratory deals with samples and specimens, it is vital your team has a clear understanding of the optimal conditions for storage.
Temperature changes, exposure to sunlight or sudden physical impact can all potentially jeopardise the integrity of a sample, posing a risk to the research it is being used for. As many samples are kept in small volumes, even short periods of time outside these conditions can cause irreparable damage.
As a specialist laboratory relocations company, Aport has expert knowledge on how to move samples without compromising their quality. But attempting to transport samples and specimens without professional help can be a major risk, even if you are simply taking them to another lab within the same building.
Many laboratory samples must be kept within a specific temperature range and it is important that all parties involved in moving them from one location to another understand this and help formulate a plan to ensure they remain at the right temperature throughout.
While some samples and specimens only need to be kept at ambient or room temperature, others must be preserved at lower temperatures. This could involve refrigeration or being kept in either a domestic freezer (-20°C) or a cryogenic freezer (-80°C).
Constant monitoring is vital
Samples do not respond well to thermal shock and constant monitoring is needed if samples are being transported, regardless of the distance they are being taken. On even a short move from one laboratory to another within the same building or campus, there is the possibility that a frozen sample might thaw without anyone realising. This could cause the sample to become damaged or unstable and potentially impact the accuracy of results if it is then used for testing or research purposes.
Using a specialist laboratory relocations company like Aport to transport samples and specimens is one way of mitigating these risks and minimising the chance of any items becoming compromised, contaminated or damaged. On all our laboratory relocation projects, our team carries out extensive planning to ascertain exactly what the risk factors are for every sample and specimen which will be moved.
Where temperature conditions are important, we plan how they will be kept consistent at every stage of the sample's journey from one location to another. This may mean moving samples and specimens within a refrigerator or freezer and we have specialist vehicles in our fleet which allow laboratory appliances to be plugged in and operating while in transit.
Pre-conditioned packaging
If it is not practical to keep samples in their original freezer or refrigerator, we use suitable insulated containers and dry ice or liquid nitrogen to create the right conditions for samples and specimens which must be kept at very low temperatures. All our packaging systems are precisely pre-conditioned to achieve the correct temperature range before any samples or materials are loaded ready for transportation.
The Aport team also collects evidence to show that the correct conditions were maintained, both for the research team's peace of mind and to satisfy the demands of quality departments, as well as adhering to any relevant regulations. We monitor conditions throughout the move using a temperature data logger, which allows us to quickly identify any problems as and when they happen.
The data logger will also produce a stream of data which can be kept as evidence if needed. We always start using the temperature logger before we begin the process of actually moving the samples. For example, during a move scheduled to start at 10am and estimated to last until 3pm, the crew would get the temperature logger running at 9.30am and keep it recording data until everything is in place in the new location.  
With photosensitive samples which must be protected from daylight, it is essential that the moving process is planned to minimise the risk of any exposure and that the containers used are suitable for the purpose.
In some cases, samples will need to be kept in strict temperature conditions and will also degrade in daylight. At Aport, we will have a detailed conversation with our customer to understand the unique requirements and challenges involved in the process.
Detailed labelling
All samples and specimens involved in the move are labelled with detailed information of any risks posed if someone were exposed to them. In the case of biological agents, there could be an infection risk and this should be clearly indicated on containers and packaging. If any hazardous materials are involved in your move, we will consult a dangerous goods safety advisor (DGSA) so they can check that all regulations are being adhered to at every stage.
Before Aport undertakes a laboratory relocation, we will carry out a site visit to understand the complexities of the move and identify any potential challenges. All our crews are trained to handle items carefully as physical shock or sudden impact can also compromise the integrity of some samples. Once your samples have reached their destination, we will also take care to properly dispose of any specimen transport bags once they have been emptied.
Planning, continuity and evidence are all key elements of any laboratory relocation, regardless of distance. This is why we keep an audit log – a detailed set of chronological records – to demonstrate everything that has happened as part of the relocation process, including any events which could have an impact on the integrity or stability of any samples or specimens.
Keep accurate records
This audit log or trail can play an important part in making sure that no samples are misplaced or confused for another. Taking time to ensure all samples are correctly labelled before they are moved helps make sure the records kept are accurate and that everything ends up exactly where it needs to.
The specialist packaging systems used by Aport are validated for up to 220 hours and are designed with the specific relocation project in mind. Where our relocations involve another country, we use cross-hemisphere IATA compliant packaging to overcome any ambient temperature challenges. Our road vehicles are fitted with tracking devices to continually monitor the progress of materials and collect data for auditing purposes.
International relocations pose the additional challenge of securing customs clearance so your items are not held up by border control. At Aport, we understand the paperwork required for each country your samples will pass through, minimising the risk of delays and ensuring you avoid financial penalties.
Although it may be tempting to move samples and specimens yourself in a bid to save time and money, this can be a false economy if the integrity of materials ends up being compromised or your organisation faces penalties for not adhering to regulations.
To find out more about how Aport can help you, contact our team today