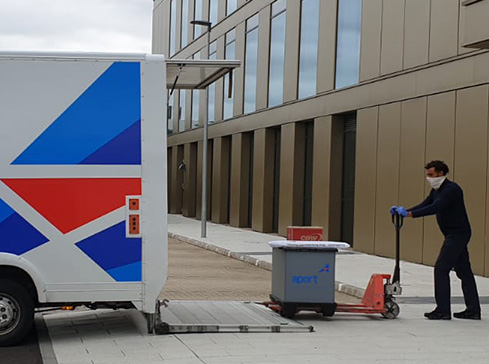 Phased relocation minimises disruption for pharmaceutical firm
Phased relocation minimises disruption for pharmaceutical firm
Aport has recently completed a phased relocation for pharmaceutical giant GlaxoSmithKline (GSK).
GSK manufactures antibiotics in Ulverston, Cumbria, but the firm is planning to shut down its site in the town by 2025. Aport was brought in to move equipment from a building at the facility which is due to be demolished soon.
The team at Aport was tasked with carrying out the relocation in a way which would minimise disruption and allow operations to continue as normally as possible. The aim was for GSK staff to be able to carry on working for as long as possible in the old building and then transfer to the new location – a warehouse on the site, which had been converted into laboratories.
The relocation will allow GSK to keep manufacturing and quality control operations going on the site for another two years, while some of the older buildings are knocked down ready for the companies withdrawal from Ulverston.
Aport handled every aspect of the move, including planning the whole operation and liaising with 11 different vendors to decommission the equipment and then reassemble and recommission it in its new location before running all the necessary quality checks. The equipment was moved in two stages with Aport returning to the site a third time to move accessories and consumables.
Expert planning and preparation
Andrew Powers, Aport's projects manager, said: "The move required a high level of planning and the relocation was carried out over several weeks. The client wanted enough equipment up and running to keep them going so we carried out the relocation in phases.
"Before the move started, I went on site a week before and walked round the labs with a representative from the company putting labels on everything. This included information on any special handling required, all relevant regulations and when each item needed to be moved.
"By the time our crews come on site, they can see what needs to be done and when. Customers like it because they  don't have to answer as many questions on the day and our crews like it as everything has been planned out for them."
Apart from a two-week shutdown, GSK staff were able to continue working either side of the move, which was completed in June. The relocation was not without its challenges though as the goods lift in the original building broke down just before the move was due to be carried out.
As the building was scheduled to be demolished, it was not considered to be cost-effective to repair the goods lift. This meant Aport crews had to carry out the job without it, using their expert manual handling skills to ensure everything was moved on time.