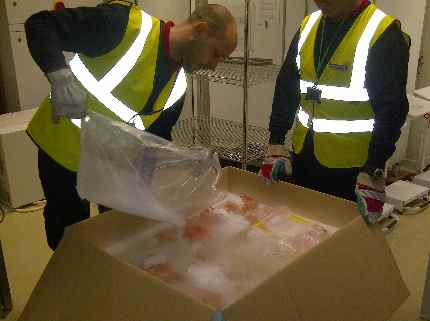 Marine sponges from Norway to Ireland
Regulatory Adherence / Project Management
Aport's specialist knowledge and capability in managing the relocation of temperature controlled materials was put to the test when a marine research facility in Norway contacted us to discuss the possibility of relocating part of a laboratory from Bergen to Galway.
The relocation of instrumentation was relatively straightforward and the customer was put at ease with the wide range of specialist packaging and crating systems that aport could utilise in order to fully protect sensitive instruments from point of collection to delivery.
However, the customer was more concerned about a large collection of sponge samples that needed to be kept at -20 (degrees c) with little tolerance in stability/temperature integrity either side of this.  The collection of sponges was the culmination of around ten years of researchers' work and so understandably there was a lot of focus on the ability to correctly maintain the required temperature range for the duration of the relocation.
Aport's experienced project team created a full project plan taking in all of the logistical and operational challenges of the relocation including difficult access at origin for the removal of some large instrumentation, through to the completion of all customs formalities on behalf of the customer and the development of a bespoke packaging solution to ensure the temperature integrity of the sponge collection.
A team from Aport including three of our vehicles was sent out to Norway to undertake the relocation, taking with them a large number of bespoke crates that had been specially built for the instrumentation that was being transported.  Aport utilises a unique double floating deck design for the crating and packaging of sensitive instrumentation which provides an individual air-ride system which helps to massively reduce shock and vibrations through the physical road transport element of any move.
The team also had with them bespoke temperature controlled systems which Aport created with the combined assistance from its packaging supplier.  This included the use of dry ice and phase change materials to keep the temperature regulated to within a couple of degrees of -20 (degrees c). 
Data loggers were used to monitor any temperature excursions from the point of collection to delivery with the phase change materials having to be replenished once the vehicles had arrived back from Norway to the UK and prior to them setting off for the ferry to Ireland. 
Upon delivery to Galway a temperature reading was taken which was well within the agreed excursion limits which left a very happy research and project team.  All other materials were off-loaded, unpacked and setup by aport ready for the re-commissioning by the chosen OEMs. 
This project showcased aport's ability to diligently understand customer requirements, approach to risk and risk management and the application of unique temperature controlled packaging systems as part of a turnkey solution for its customers.